TWIG Protector Explosion Proof GPS/GSM Lone Worker Alarm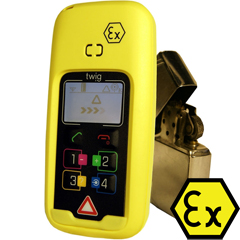 Specifications

Article number

TWIG Protector Ex

Network

Quad-band GSM (850/900/1800/1900)

Antenna

Internal GSM and GPS antenna

Operating temp.

-20 - +40°C

Battery

1.300 mAh Li-ion

Charge time

< 3,5 hrs for 100%

Protection

IP67
Download Productsheet
GPS/GSM Lone Worker alarm for explosive hazardous area
ATEX II 2 G Ex ib IIC T4 Gb
Units can be integrated with alarm receiving center
Various alarm options
Excellent operating times even in continuous GPS monitoring
Lone Worker alarm
TWIG is an intrinsically safe GPS/GSM Lone Worker Alarm for explosive hazardous areas. TWIG Protector Ex can communicate with all systems using MPTP (Mobile Phone Telematics Protocol) both via SMS and GPRS. Tracking and alert messages include information on GPS location, the TWIG Beacon location, speed, heading and battery charge.
Possibilities
Alert triggers include the alarm button, an automatic ManDown function, AmberAlert and optional TWIG Button wireless alarm. Predefined emergency protocols transmit the last known user position and open a two-way voice connection to the alarms receiving center (ARC).
Excellent operating times even in continuous GPS monitoring mode are achieved through advanced technology and a large-capacity battery.
Configurable
Fully remotely configurable, the TWIG safety alarm is fast to deploy and flexible to operate. It can also be programmed via USB, either manually or via a saved file.
Integration with alarm center
The TWIG Integrator Kit resources enable integrating TWIG devices with the alarm receiving center. Optionally the TWIG WebFinder SP software provides a turn-key solution for testing or deployment. It also allows your to receive alarms and reports on your smartphone as SMS with web link, opening up a Google Maps view.
Personal safety
The TWIG personal safety alarm including a short range devices (SRD) transceiver can receive alarms from several TWIG Buttons, determine their position from nearby TWIG Beacons also when GPS signal is not available, and register attendance by swiping TWIG Tags.
You can contact us by calling +31 10 - 4500 500 or by leaving a message via our contactpage. We will reply within 24 hours.