HR Compact Color Camera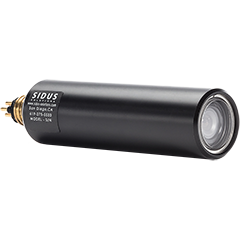 Specifications

Article number

A.004427

CCD sensor

1/3 inch super HAD CCD II

Horizontal resolution

600 TV lines (NTSC or PAL)

Minimal illumination

0,05 Lux (f2,0)

Optical depth

350m (1.000ft) - higher ratings available

Weight in air

0,25 kg

Weight in water

0,07 kg
Increases the safety and efficiency of your operation
Lightweight and compact
Super HAD CCD imaging sensor designed to reduse noise
High resolution
Corrosion resistant housing
The high resolutions compact color camera is a lightweight camera. It employs a 600 TVL color module that has a 1/3" Super HAD CCD imaging sensor designed to be noise reductive.
This impressive high-resolution model presents video images with wide dynamic range. Video output is provided in PAL or NTSC formats. The lens is a standard 3.6 mm that offers 92° FOV in air. Also available are 2.9 mm, 6 mm, and 8 mm. Other available options are customer selected connectors and input voltage options.
Factory presets include white balance, shutter speed, day and night function, AGC, image inversion and color. The durable acetal housting is corrosion resistant and will provide years of quality service. Other housing options are available to best suit the client's needs.
You can contact us by calling +31 10 - 4500 500 or by leaving a message via our contactpage. We will reply within 24 hours.