HR Optically Corrected Low Light B&W Camerap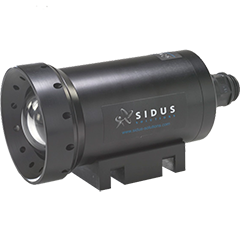 Specifications

Article number

A.005139

Camera module

1/2 inch interline transfer CCD images sensor

Resolution

570 TV lines

Total pixels

881 (H) x 508 (V)

Minimum illumination

0,00015 Lux (AGC Hi)

Operating depth

3.000m (10.000ft)

Power input

12V to 26V/DC
Increases the safety and efficiency of your operation
High resolutions
Low light sensitive
Suitable for rigorous and prolonged industrial deepwater applications
Iris closes automatically when power is off
The HR Optically Correct Low Light B&W Camera is a high resolution, low light sensitive black & white underwater camera system enabling visibility in conditions with a minimum illumination of 0.00015 lux. The system was upgraded as a result of breakthroughs in low light camera technology.


Video output can be provided in EIA or CCIR formats and can be delivered over an internal, remotely adjustable long-line amplifier.

The unit has been designed to handle the demands of the most rigorous and prolonged industrial deepwater applications.
You can contact us by calling +31 10 - 4500 500 or by leaving a message via our contactpage. We will reply within 24 hours.
Related products