i4500 RCI (offshore)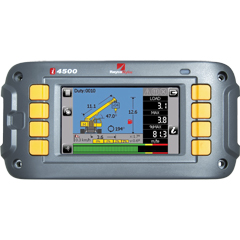 Specifications

Article number

i4500

Monitor

High resolution LCD, readable in direct sunlight

Memory

2GB (upgradable on request)

Processor speed

600/800MHz

Operating temp.

-20°C – +70°C

Protection

IP67

Calibration

Via monitor
Safeload for all cranes in construction and offshore industry
Compliant with highest safety standard EN ISO 13849-1
Intelligent computing for detection of system malfunction
Uploading of new information with USB
Robust - suitable for harsh environments
Complete integration
Rolloos i4500 series is a Safeload indicator. Designed to accommodate all types of cranes working in the construction or offshore industry, the i4500 is the new generation of RCI. Offering more complete integration with the crane and the ability to monitor advanced operational parameters, such as boom sequencing, outrigger monitoring, range limiting and wind speed.
EN ISO 13849-1
Compliant with the highest European safety standards EN ISO 13849-1, the system has the capability to centralize the safety information, engine data and camera images all on one clear, full color display.
You can contact us by calling +31 10 - 4500 500 or by leaving a message via our contactpage. We will reply within 24 hours.