Load Link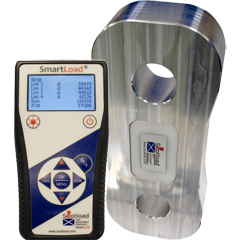 Specifications

Article number

LoadLink

Max. cells simult.

128

Real time trace

The last 100 readings

Rated load

As required

Proof load

150% of rate load

Safety factor

5x

Operating temp.

-25°C – +70°C
Innovative intelligent load cell system
Stores data for real time and retrospective analysis
Uses the latest wireless technology
Overload identification
Corrosion resistant design
Related products
Innovative & intelligent
Load Link is the innovative intelligent load cell system that stores data for real time and retrospective analysis. Load Link system's datalog provides asset owners with protection against potential misuse and overload events. Usage and overload will never be disputed again. SmartLoad® can also store load test data for numerous loading events.
Specifications
Plug and play technology: Load Link is a robust "plug-and-play" load monitoring system that is quick and simple to operate. The handset's menu-driven graphical user interface and intuitive nature means you can use it straight from the box.

Select and connect: Utilising the very latest wireless technology, Load Link provides far greater range with minimal risk of interference. No pairing is required with "select and connect" functionality.
Networking: Load Link is not restricted to a single cell-to-handset pairing, giving you more flexibility. A single handset now has the ability to connect to multiple load cells and multiple handsets can now be connected to a single load cell".
Innovative load logging: As load weight event and calibration data is held on Load Link 's non-volatile memory, results can be viewed instantaneously. The software automatically generates 'ready to share' charts for all logging events, saving valuable time when compiling data.
Overload protection: This comprehensive usage log shows when the unit was calibrated, used and if it has been overloaded, allowing the owner to guard against using or hiring a load cell that could be out of calibration due to an overload event.
Retrofitting: Load Link can be retrofitted to a range of manufacturer's equipment, making it possible to upgrade all your load cells into intelligent load monitoring systems.
You can contact us by calling +31 10 - 4500 500 or by leaving a message via our contactpage. We will reply within 24 hours.
Related products