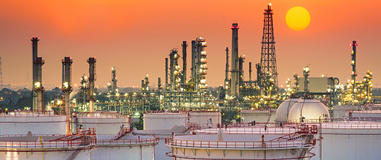 REFINERY
General process monitoring, perimeter surveillance and tank farm monitoring are important safety solutions at a refinery.
Our CamPro IP CCTV solution makes it possible to monitor your complete site, day and night. Through integration with your Fire & Gas Alarm systems you gain full insight in your perimeter, site and processes.
Monitor the temperature variations by including thermal imaging cameras. Include our smart analytics to introduce automated alarms.